Basil & Blood Orange Margarita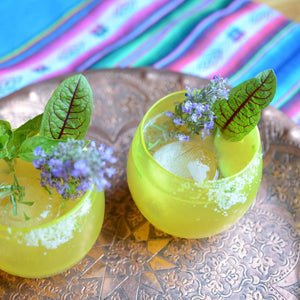 Gardening isn't just for salads and Garden Cocktails' beautiful blog is certainly proof of that! Stacie is an urban balcony gardener on a mission to change the way you think about cocktails.
She put together this fabulous Basil and Blood Orange Margarita using our Orange White Balsamic Vinegar. As Stacie puts it, "Vinegar might sound like a surprising ingredient, but it adds a wonderful complexity to classic cocktails."
This margarita is perfect for porch sipping, backyard bashes, or an after dinner delight.
Ingredients:
2oz Blue Nectar Tequila
1oz Fabrizia Spirits Blood Orange Liqueur
Splash of Orange White Balsamic Vinegar
.25oz agave nectar
Basil
Directions:
1. Add all ingredients and shake.
2. Serve over ice.
 Photo and recipe by Garden Cocktails.