Peach Sangria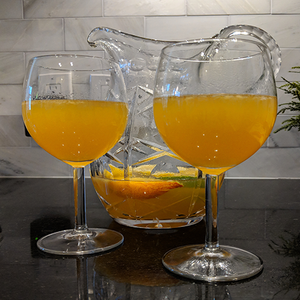 Yield: 2 cups
Prep Time: 10 minutes
Ingredients:
1/2 cup peach nectar, chilled
1 cup dry white wine (pinot grigio)
1 cup seltzer
2 lime and 2 lemon slices
2 peaches, sliced 
Directions:
Cut peaches in chunks, freeze for serving.
Combine first four ingredients in a pitcher. 
Garnish with fruit slices. 
Refrigerate sangria until well chilled, at least 2 hours, or overnight. Serve over ice.