Beyond the Box with Dr. Pete's Baking Mixes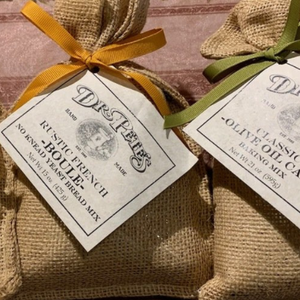 At A Taste of Olive, we believe that eating healthy should be simple and convenient. That's why we love Dr. Pete's Baking Mixes! Each hand-packed mix contains a handful of ingredients and just 15 minutes of prep. Time won't be the main ingredient when you bake with one of Dr. Pete's Baking Mixes.
Whether you curl up with a good book, or cozy under a blanket, make any day a celebration with these no-fuss mixes. Try a Lemon Blueberry or Orange Cranberry Scone for breakfast. Or, start a family meal with a Rustic French Boule or Italian Herb Focaccia Bread, and for dessert, Olive Oil Cake Mix. These baking mixes are just what the doctor ordered!
A Delicious Prescription
When Dr. T. A. Peterson, or "Dr. Pete," wasn't dishing out advice during house calls in the quiet town of Ailey, Georgia, he'd be in the kitchen whipping up doses of phenomenal foods for family and friends. 
His family felt that more people needed to sample his signature sauces and marinades.So, in  1985, his daughter and son-in-law began to bottle and sell his products. For the next three and a half decades, they continued to add small-batch, hand-crafted products to their line-up. And today, these new, delightful mixes are available at A Taste of Olive stores for $9.95. We can't wait for your family to enjoy them!
Rustic French Boule:

There are times when you build a meal around an ingredient, and this old-world bread is one of those ingredients. From morning toast with goat cheese and

Gracious Gourmet Smoky Ginger Peach Spread

to a towering turkey sandwich with

Port Wine Cherry Mustard

, or dipped in our classic bread dip, this Paul Hollywood-worthy, award-winning bread will be the showstopper of any meal.
Anyway you slice it, Dr. Pete's Baking Mixes can't be beat!