Your Guide to a Safe and Romantic Valentine's Day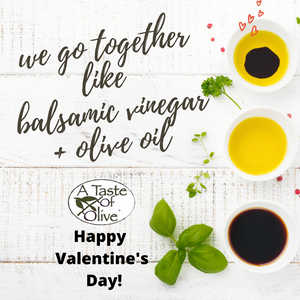 We all know that this Valentine's Day probably won't look like the ones we've had in the past. No calling a month ahead to make sure you have reservations at that fancy restaurant or fussing over finding the perfect outfit. But hey, this is still going to be a great day! 
Because now, you have the power to make a perfect romantic dinner right at home. So trade in that cute red dress for your favorite sweatpants and cozy socks. We've put together this guide to the perfect stay-at- home Valentine's Day just for you. So relax, put on some romantic tunes, and let's cook!
Quality matters

. Starting off with quality ingredients is one of the best ways to ensure you're getting that restaurant-quality meal while staying safe at home.Try cooking with our

Kalamata Extra Virgin Olive Oil

and our

Wild Porcini Sea Salt

to give your dish that Michelin star pizazz. 
Less is more

. Sometimes, going with a simple approach can have the biggest payoff. Ensure that your Valentine's Day dinner will be foolproof by preparing a recipe you're comfortable with. It's hard to go wrong with a few fresh ingredients and a recipe technique you've explored before. 
A light starter.

While it might be tempting to go above and beyond and serve your beloved a four-course meal, it might be overwhelming. If you want to serve an appetizer, keep it on   the lighter side. Some crackers with our

Roasted Red Pepper & Olive with Goat Cheese Tapenade

is an effortless yet thoughtful dish that is sure to preview your main course nicely.
Meat and potatoes.

There's a reason why we use the phrase "meat and potatoes" to describe something really fundamental.(. So why not make this delicious

Parmesan Butter Balsamic Steak

? For an easy side, simply roast some diced potatoes in olive oil and your favorite spice mix. 
Set the mood.

Once you have the best ingredients available and an incredible recipe, there is only one thing left to arrange-the setting. So break out the candles, turn the lights down, and play some soft  music for a perfectly romantic evening. Hey, this is starting to sound even better than a night out!
Clean as you cook.

Nothing is worse than having to pause a romantic night to clean some dirty dishes. When you have time as your food roasts in the oven or simmers on the stove, get those dishes out of the way. To further streamline your night, you can choose to cook an easy   one-pan recipe that's certain to simplify the clean-up.
Pasta, anyone?

Maybe it's just me, but a light and fresh pasta dish is the absolute perfect dinner. It's filling, but not too filling, and satisfies my constant noodle craving. For Valentine's Day, a pasta dish with an olive oil based sauce is a great way to go. Try making our

Mushroom, Sage and White Wine Penne

or effortless

Risotto "Ravello" with Lemon Zest

for the one you love. Complete your meal with a Caprese Salad dressed with Basil EVOO and drizzled with a dark balsamic. 
The perfect pairing

. Just like you and your special someone are a perfect match, make sure that that you correctly match your wine with the dish. For example, only serve white wines with light colored meats such as fish, or chicken, or pork, and save the red wines or red meats. This little attention to detail is a professional touch your sweetheart will surely appreciate
Make ahead when possible

. Here's a great way to reduce stress and eliminate kitchen clutter on the most romantic day of the year--prepare a dish ahead of time. While your entree will most likely have to be served fresh, your starter and/or dessert should be something you make ahead of time. 
Whether you serve one course or multiple courses, at the end of the day, it is all about spending quality time with your sweetheart. Let A Taste of Olive help you craft a cupid-worthy menu!