COVID-19 Updates as PA Moves Into the Yellow Phase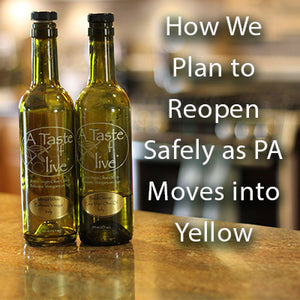 Kimber, Kate, and I want to again thank all of our customers and friends who have so generously supported A Taste of Olive as we have navigated the COVID-19 crisis together. Our focus throughout has been on continuing to provide quality products and customer service while protecting the health and well-being of our customers, employees, and the larger community.  As Pennsylvania enters Governor Wolf's yellow phase of reopening businesses, we will continue to focus on that goal.  
While we would love to throw open our doors and welcome everyone back without restrictions, that simply isn't possible and may still be a long way off.  We miss chatting with you about food, cooking, and so much more. And, we hope you miss the experience of tasting and selecting the perfect olive oil and balsamic vinegar to enhance your healthy and delicious meals.
Still, in this phase, we can now have a little more contact, but not just like before. We have given a lot of thought to the best way to move forward safely.
Curbside Pick Up

: We will continue to provide curbside pickup at West Chester and will start doing so at Chestnut Hill as soon as we can reopen there.  If you know what you want, this is the safest and most convenient way to make a purchase. Just call in your order (for West Chester at 

610-429-0292

) and arrange a time or pick-up.

Store Capacity:

Because of the intimate size of our store, for now, only 4 customers will be allowed in the store at one time.  While inside, please practice social distancing.

Sanitization:

As always, we will sanitize frequently touched surfaces often, and employees will wash or sanitize their hands frequently. Hand sanitizer will be available at the store entrance.  We will request everyone utilize it before entering.

Masks:

As long as masks are required by the state, everyone who enters the store must wear a mask. If that order is lifted before a vaccine is available, we will still encourage the wearing of a mask to help protect our employees and other customers.  Remember that we wear masks to protect others.  

Tasting:

There will be no tasting cups next to any fusti. If you want to taste, please ask an employee who will give you cups and show you how to taste safely. Be sure you throw each cup in the provided trash cans after using it. Never place a used cup in the drip bowls or set it down on any surface.

Bottles:

You will find pre-filled bottles under each fusti.  All of these bottles have been cleaned with an antiseptic wipe. If there are no filled bottles left under the oil or vinegar you want to purchase, or if you want a large (750 ml) bottle, please ask an employee to fill one for you.  

Refills:

As committed as we are to recycling, we, unfortunately, cannot refill bottles at this point in time. We will resume our refill policy at some point down the road when it is safe for all to do so.
We may need to make changes, however, as we see what works and what does not. We appreciate your ongoing patience and support as we navigate this period. Thanks again to all of our loyal and new customers for supporting our store and our efforts to keep everyone safe! 
A Taste of Olive