Gourmet Gelato Pairing Event With Gemelli Gelato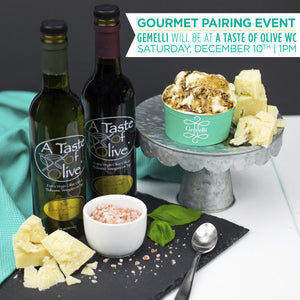 This Saturday, December 10th, we are partnering with our neighbors at Gemelli for a one of a kind "Gourmet Gelato Pairing" event.

Come Holiday shopping at A Taste of Olive's West Chester location and sample 3 gourmet gelato flavors from Gemelli, paired & crafted with A Taste of Olive's Italian EVOO & aged balsamics.

The Gemelli tasting will begin at 1:00 pm and you can see the event on Facebook here. Make sure you stop by as early as possible because there is a limited supply of Gelato and it won't last long!
We hope you can join us for this unique event and look forward to your visit this weekend.
See you there, amici!!