Keep the Party Going with Festive, Fun, Flavorful Favors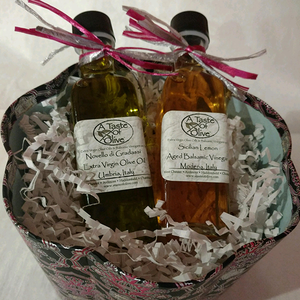 Hosting a party? Sponsoring an event?
Look no further than A Taste of Olive for a unique party favor! To commemorate your special occasion, choose a fabulous flavorful favor from among some 80+ extra virgin olive oils and/or balsamic vinegars. Or combine two for a custom palate-pleasing pairing. The possibilities are endless. And not only will your guests thank you for a healthy alternative, they'll want to borrow your clever idea for their next event!

Can't make a bow?
Let our design team craft the perfect package for you to offer your guests, including a custom label and wrap for a beautiful presentation. (Ribbon, bags, wrapping and more are available at an additional cost.) And we can easily customize your favor with a label that features the name of your business, or event name, and the date of your occasion for a memorable
momento.

Rather not spend a fortune?
A favor from A Taste of Olive is both useful and affordable! Our pricing depends on the particular oil or balsamic that you choose and ranges accordingly:
60 ml bottles: $4.50-$4.95 per bottle.
100 ml bottles: $5.82-$7.54 per bottle.
150 ml bottles: $7.63-$10.05 per bottle.
Throwing a big bash? Don't forget to ask about our volume pricing!

Orders must be placed at least 30 days prior to the scheduled event. A 50% deposit is required upon placement of the order with the remainder due upon delivery or pick-up.

Shipping is also available and pricing will be based upon packaging requirements and shipping rates at the time of shipment. Orders that require shipping carry an additional lead time of two weeks prior to the date of the event in addition to the 30-day requirement (i.e. a 45-day lead
time).

At the end of the day, you want to give your guests a gift that is as unique as you are. To learn more about customized favors, contact the manager at each location:
Chestnut Hill, Nancy, 215-242-4845
West Chester, Kate, 610-429-0292
Happy planning!