Make Her Month with this Mother's Day Menu for Grown Up Kids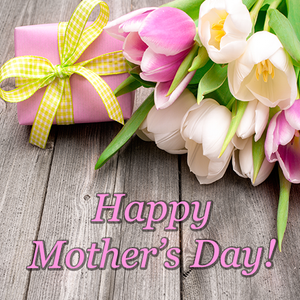 Your Mom always loves anything you give her. When you were a kid, chances are that a handmade macaroni necklace caked in paint and glitter was the pinnacle of Mother's Day gifting.
Now that we're all a bit older, it may be time to take the macaroni off the necklace and onto a plate. Regardless of your skill in the kitchen, just like that necklace, it's really more about the thought and effort than the finished product.
Luckily, we have a range of products for every level of home cook that will help you deliver the perfect Mother's Day meal. The way to the heart is through the stomach, right?
More Cheese, Please!
A cheese and charcuterie board makes an impressive first course without spending hours in the kitchen cooking. A selection of cheeses (visit our friends at the Chestnut Hill Cheese Shop) and cured meats can be complemented with one of our mustards and, for a special treat, Estilo "Affinato" di Modena. This dark, thick vinegar with notes of plum, honey, and cherry is not only perfect for this appetizer but also can be used for several other courses as well. In-store only. 200ml-$19, 250ml-$30, 375ml-$34.
Pasta and Sauce with a Twist
Do you have memories of your grandmother or mom crafting the perfect spaghetti sauce? (Or "gravy." We're not here to offend anyone.) Stop in and pick up Rossi pasta—handcrafted pastas that cook up in under 5 minutes—and try your hand at the family recipe. In-store only. $9.25.
If you don't have an heirloom recipe to whip up, or just don't think you'll do Nonna's sauce justice, browse our selection of Delicae Gourmet pasta sauces. Available flavors include puttanesca, sun-dried tomato and basil, fra diablo, and romesco. It's the next best thing to homemade. In-store only. $10.95.
Trading in Macaroni Necklaces for Risotto 
If you want to edge out your siblings for mom's favorite, pick up a Tiberno risotto. Sure, risotto takes time and attention, but the end result is worth it. Remember that Estilo "Affinato" di Moderna you drizzled on the cheese course? Wait till you taste what it does to a risotto with porcini mushrooms! In-store only. $8.25-$8.95.
Global Flavors (Almost) Out of the Box
Now, if all this is making you consider breaking out your glitter and going old school with your gift, fear not. If sauce-from-scratch or the perfect risotto isn't quite your thing, we have a large selection of slow cooker dinners and soups that may be more up your alley. From Manhattan-style clam chowder to Thai curry lentil soup. Spanish hacienda paella to Indian curry. Most need just 5 minutes of prep time and minimal additional ingredients. In-store only. $8.25-$8.95.
Delightful Desserts
Whatever entree you serve, don't you dare forget to finish off with something sweet. Start with gelato (if you're in West Chester, check out our friends at Gemelli Gelato) and add Vincente Cream of Pistachio Dop Bronte or Almond—or even take that balsamic back out! In-store only. $10.50.
Here's the thing: your mom would be happy with a peanut butter and jelly sandwich as long as it meant spending time with you. That's just what being a mom is. So just imagine how perfect it will be enjoying that quality time with a quality meal!