The Top Seven Reasons to Love Our Fruit Vinegars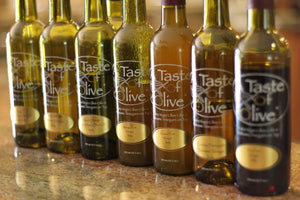 Summer is synonymous with all things fruity—freshly picked berries, endless fruit salads, and fruity cocktails. On hot summer days, we can't get enough of our high-quality fruit vinegars in spritzers, on salads, or as a marinade on fish or chicken. Here are seven reasons to love fruit vinegars.
7. It is unlike any vinegar you've ever tasted. We get it, your first thought when you hear vinegar is probably not sweet or fruity. But when you taste our mango fruit vinegar or passion fruit vinegar, you'd swear you took a bite of the actual fruit.
6. It is beloved by the health community.
And for good reason! These flavor powerhouses are the perfect substitute for sugary soft drinks and marinades.
5. It was believed to be a gift from nature.
Vinegar is produced very close to wine, using fermentation and the aid of acetic acid bacteria. It was considered a gift from nature until scientists discovered the scientific process in the 18th century.
4. It contains only the best ingredients.
All of our fruit vinegars are made with high-quality grape must, pinot grigio wine vinegar, and the fruit puree. A lot of other products like this out on the market use generic wine vinegar as the main ingredient.
3. It has no added sugars.
Since vinegar is so acidic, most fruit vinegars are sweetened with a sugar-based syrup. The Italians, have a secret to creating fruit vinegars with no added sugar -- using a high-quality grape must that is naturally sweet.
2. It's been cool for centuries.
The history of drinking vinegar dates all the way back to 15th century England, who imported balsamic vinegar from the Italian peninsula. Colonists took the vinegar with them to America and invented the mixed drinks known as "
shrubs
."
1. It goes with every dish and palate.
Champagne. Seltzer. Grilled vegetables. Salads of all kinds. Marinades for seafood, pork chops, chicken, duck, game, or steak. Ice cream. Cheesecake. These dishes and drinks are all enhanced by adding a dash of one of our fruit vinegars.
Need another reason to love fruit vinegars? Stop by any of locations in June and receive 10 percent off all fruit vinegars. Whatever flavor you crave to enhance your favorite summer beverages and dishes, come in and taste the difference!