Top Ways to Celebrate National "Eat Better, Eat Together" Month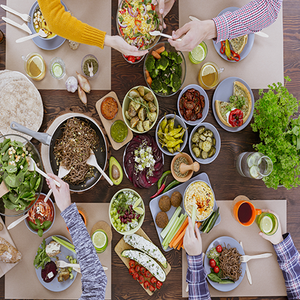 Between practice, homework, and extracurricular activities, it can sometimes feel like a challenge to just get dinner on the table. 
Studies have concluded that American children eat together as a family less often than other countries. There are so many benefits to eating dinner as a family: children get more nutritious foods, children get better grades in school, it improves family communication, and builds a family tradition.
Since 1996, Washington State has named October "National Eat Better, Eat Together Month", encouraging families to squeeze in more meals around the table. 
Eating healthy doesn't have to be hard. We've compiled 16 new ways to introduce your family to healthy foods during your family dinners:
First, remember it often takes multiple tries before we learn to like a new food. For adults, this may take four or five times, whereas, it's more like

five or ten

for kids. Second, remember your child's stomach is roughly the size of their fist, so one or two bites of a new food is a great start!

Be a role model! If you're excited about a new food, chances are your kids will look up to your eating habits. Children almost always end up liking the foods their parents enjoy.

Offer as many new foods as possible early in life. For most children, this process starts around six months.

The texture is important for young children. Notice the texture and consistency of foods that your child readily eats and enjoys.

Make it a family affair! Kids are more likely to eat their foods if they've been involved in the growing, planning, shopping, or cooking process.

It may seem counterintuitive, but let them play with their food and explore. This is the way they learn about any new object. Self-feeding may be messy, but it gives your child a sense of independence and control.

Cook with extra virgin olive oil. It is the richest in monounsaturated fats, promotes brain development, promotes digestive tract health, is high in healthy calories, and reduces the risk of obesity.

Stick to a schedule and plan ahead. Avoid tantrums and meltdowns by planning out your meals or snacks. If a week is too much, start by planning out meals for two or three days.

Introduce vegetables like broccoli, cauliflower, or zucchini to your kid's favorite meals -  pasta, mashed potatoes, or soup.

Start a garden. If your child grows a vegetable, they are almost certain to eat it. If you're short on space, a container garden is a great start!

Place a new food next to food your child likes. At the beginning of the meal when your toddler is hungry you might start out with just two foods. Don't try to coerce your child into trying the new food. Give them the freedom to choose.

Mix it up. Make healthy popsicles or smoothies chock full of fruits and vegetables.

Keep your kitchen well stocked with healthy snack options.

Be Switzerland. As hard as it is, it's important to remain neutral and hold back any negative comments.

Have fun! Go on a field trip to a farm or farmers' market. Make smiley face pancakes. Read books and put on plays about healthy foods.
In conclusion, introduce new foods often, early, and on repeat. Pay attention to texture and portion size. Make sure new foods are cut up into very small, easy to eat sizes. Make exploring new foods fun and low key. And ENJOY!