Your Honey Will Love These V-Day Treats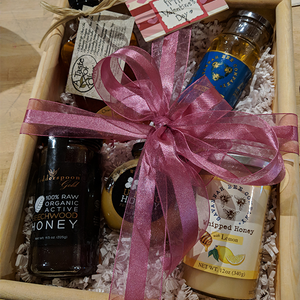 At A Taste of Olive, we believe the way to a person's heart is through their stomach. This Valentine's Day, say goodbye to teddy bears, cheesy gifts (unless it's actually cheese), and played out perfumes, and let us play culinary cupid instead. Whether your honey's heart desires savory or sweet, it will be love at first bite with any of these products!
Chocolate Without the Calories
The holiday wouldn't be complete without a little bit of chocolate. Give them a guilt-free gift with our Dark Chocolate Balsamic Vinegar. The rich, dark chocolate flavor of this 4 Leaf Balsamic Vinegar is delightful when coupled with berries, a cheese course, ice cream, or as a base note in a savory red sauce. Available online and in-stores. $17.50-$33.00
Beer for Breakfast?
Good food and good beer go hand in hand. From morning toast to late night chicken wings, Potlicker Beer Jellies are the perfect match for your beer-loving beau's favorite meals! These jellies are lovingly made with the freshest ingredients by a Vermont husband and wife duo, and come in a variety of flavors: Black IPA, Pumpkin Ale, Heady, Porter, Spiced Wine, and Rosemary Garlic Chablis. Available in-stores only. $8.50-$9.50
Good for the Heart
What's the cure for winter blues? Comfort foods! Take your risotto, roasted vegetables, pot roast, and dips to the next level with our Butternut Squash Seed Oil. This cholesterol-free, nutty oil is made in the Finger Lakes region of NY from 100% butternut squash seeds that are pressed in small batches. Available in-stores only. $14.95 for 375ml
A Basket of Bacon
Treat your sweetheart to something different this year. Our Bacon Extra Virgin Olive Oil delivers all the flavor of Hickory smoked bacon with less cholesterol and fewer saturated fats. You'll spread happiness when you add the Original or Sweet Chili Bacon Jams on crackers, appetizers, pork or poultry, or just about anything! Available in-stores only. $58
The Perfect Pairing
Move over Prince Harry and Meghan Markle; there's an even sweeter couple on the scene -- Rosemary and Pear. Gracious Gourmet's Rosemary Pear Spread combines pears and dried cranberries, sweetened with honey, spiced with black pepper and accentuated with a subtle hint of rosemary. This spread goes well with everything -- your favorite cheeses, poultry or pork, and even ice cream! Available online and in-stores. $10.50
Bee Mine
Your favorite foodie will be abuzz with glee with this gift basket complete with Savanna Bee Whipped Lemon Honey, Acacia Honey, Wedderspoon Beechwood Honey, and Fruitwood Orchards Orange Blossom Honey. You won't find a sweeter gift than this! Available in-stores only. $95