Blackberry Balsamic Vinaigrette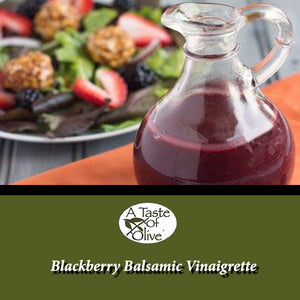 Prep Time: 5 minutes
Yield: 6 servings
Ingredients:
1-1/2 cups fresh Blackberries
3 tablespoons Blackberry Balsamic Vinegar
1/2 cup Gradassi Extra Virgin Olive Oil
1/2 teaspoon Stone Ground Mustard
1 teaspoon minced Shallot
1-1/2 tablespoons Honey
Salt & Pepper to taste
Directions:
1. In a blender, add the vinegar, mustard, shallots, honey and blackberries and blend for 30 seconds.
2. With the blender running, slowly add the olive oil to combine.
3. Strain the mixture in a mesh strainer to remove the seeds. Adjust the seasoning with salt and pepper. If it needs to be a little sweeter, add a bit more honey.