Balsamic Roasted Asparagus With Garlic And Parmesan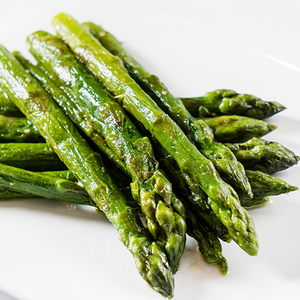 Servings: 6-8
Prep Time: 10 minutes
Cook Time: 15 minutes 
Ingredients
1 1/2 pounds asparagus
1 tablespoon Garlic Extra Virgin Olive Oil
1/2 teaspoon Wild Garlic Flake Sea Salt
1/4 teaspoon fresh-ground black pepper
3 tablespoons Balsamic Vinegar (Traditional, Fig or Black Currant)
1 cup parmesan reggiano (freshly shredded)
Note
Add Balsamico di Modena 4 Leaf Balsamic, Black Currant Balsamic, Fig Balsamic, or Garlic EVOO
Directions
Preheat oven to 425.
Coat a jellyroll pan with nonstick spray, or line with aluminum foil.
Toss the asparagus in the Garlic EVOO to coat.
Sprinkle Salt and pepper on both sides and place in pan for 6 to 8 minutes until nearly cooked through.
Bake 2 to 3 more minutes till cheese is melted and light golden brown, and asparagus starting to crisp.
Featured Products