Sweet and Savory Apricot Balsamic Chicken Wings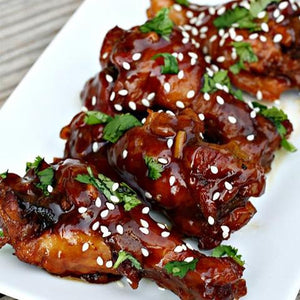 Prep Time: 2 hours
Cook Time: 35 minutes
Yield: 5-6 servings
Total Time: 2 hours, 35 minutes
Ingredients
1/2 cup Apricot Balsamic Vinegar
1/2 cup Sticky Bucket Pure Maple Creme
1/2 cup brown sugar
1/4 cup soy sauce
5 sprigs rosemary
5 cloves garlic (halved)
10 to 12 chicken drumsticks
2 tablespoons toasted sesame seeds
Optional:  Substitute Serrano Chili Honey Balsamic for a spicier dish.
Directions
1. Preheat the oven to 450 degrees.
2. Combine Balsamic, Honey Creme, brown sugar, soy sauce, rosemary sprigs, and garlic cloves in a large, resealable plastic bag. Shake and squeeze the contents of the bag to dissolve the honey and the brown sugar.
3. Add the chicken to the bag and seal, squeezing excess air out. Marinate in the refrigerator for 2 hours.
4. Place the chicken on foil-lined baking sheet. Bake until skin is caramelized, about 30 to 35 minutes.
5. Meanwhile, place the marinade in a small saucepan and bring to a boil.
6. Reduce the heat to low and simmer until thick, about 15 minutes.
7. Use a pastry brush to brush marinade on cooked chicken.
8. Place the chicken on a serving platter.
9. Sprinkle with sesame seeds and serve.