Black Bean Soup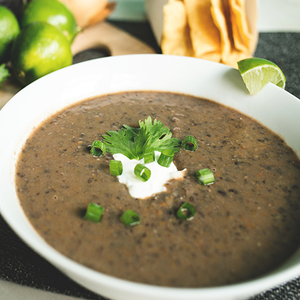 Servings: 8 (2 quarts)
Prep Time: 5 minutes
Cook Time: 20 minutes
Ingredients:
1 cup tomato salsa; save some to garnish
2 15 1/2 ounce cans black beans, drained and rinsed 
3 celery ribs with leaves, chopped
1 large onion, chopped
4 garlic cloves, minced
2 cups chicken broth
3 tablespoons Persian Lime Extra Virgin Olive Oil
1/2 cup sour cream or Greek yogurt
2 tablespoons cilantro, chopped
3 green onions, chopped
Directions:
Place 1 tablespoon of Persian Lime Extra Virgin Olive Oil in the pan. Saute the celery and onion in oil until tender. Add garlic, cook 1 minute longer.
Heat the salsa in a large saucepan over medium heat, stirring frequently, for about 5 minutes. 
Stir in the beans and broth, then heat to boiling. 
Reduce heat to low. Cover and simmer for 15 minutes. 
Cool slightly, then spoon half of the soup into a food processor or blender and puree. 
Return the pureed soup to the saucepan and heat through. 
Serve with a dollop of sour cream, additional salsa, a drizzle of Persian Lime Extra Virgin Olive Oil, green onions, and cilantro. 
Serve with warm crusty bread for dipping.
Note: Drizzle Habanero Olive Oil for a kick of heat.